Periodontology at the dentist in Munich – gum disease has no chance
The key things to know about periodontology, periodontitis and gingivitis
What are periodontitis and gingivitis?
Periodontitis is a form of gum disease that, like gingivitis, indicates disease in the gums or periodontium. These can go a long time without showing symptoms, or may be manifest in bleeding gums, bad breath or receding gums. The risks include potential bone loss and associated loosening of the tooth. Periodontitis and gingivitis can be caused by inflammation or by functional or age-related causes. At Dr. Butz and Partners, we regularly check for gum disease and carry out prophylaxis treatments. Most cases of gingivitis and the beginnings of periodontitis can be treated effectively with our prophylaxis treatments.
What is deep scaling?
In cases of deep-seated inflammation that cannot be remedied by prophylaxis, deeper periodontal treatment may be necessary. 'Deep scaling', which is carried out by our specially certified staff, involves cleaning the tooth roots in existing gum pockets. This allows inflammation to heal and even loose teeth can become anchored more firmly.
Which forms of treatment can be considered?
Whether you are experiencing inflammation or the periodontitis or gingivitis is due to functional or age-related causes, your treatment at Dr. Butz and Partners will be gentle and painless. If required, we offer a laboratory test for periodontitis bacteria to create a personalised antibacterial treatment for your needs.
Source: Dr. Martin Butz, Dr. Butz & Partner, 01.06.2022, Munich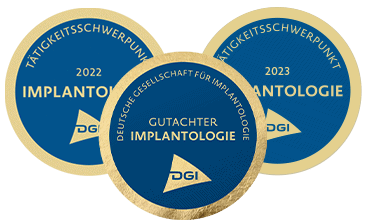 Our practice in Munich
Our dental practice in Munich offers all outpatient treatments for tooth, mouth and jaw diseases, and we specialise in a wide variety of dental disciplines. From prophylaxis to oral surgery and orthodontics, you will always find the right person to carry out your dental treatment at our practice in Munich. We believe in safe planning and dental treatment according to the applicable guidelines and specifications set out by professional associations, and we have close links to university research and development.
Periodontics Munich
Gum diseases (gingivitis, periodontitis) can be indicated by gum bleeding, bad breath and gum recession. Periodontitis, meaning an inflammation of the periodontium, can sometimes be detected late because there are often no symptoms over a long period. The dentists and specialised staff at Dr. Butz and Partner in Munich check this routinely to protect you from bone loss and the loss of teeth that comes along with it. This is why regular check-ups and prophylaxis are an essential component of our practice concept. We get to the bottom of periodontitis! 90% of all cases of gingivitis and early periodontitis can already be eliminated through normal precautionary measures at our dental practice in Munich. The dentists and skilled staff at Dr. Butz and Partner show you the problem areas in detail and help you chose the right care products.
Ihr Partner für Parodontologie in München.
If an inflammation is already too deep and cannot be treated entirely with initial steps, an extended periodontitis treatment is necessary.
With "deep scaling", periodontal pockets and interdental space are cleaned. It does not matter whether the problems are inflammatory – functional – or age-related. At Dr. Butz and Partner in Munich you will find gentle and pain-free methods of treatment. If required, we also offer laser therapy. Your partner for periodontics in Munich – Bacteriological Examination.
At Dr. Butz and Partner in Munich we determine your individual germ spectrum with specific bacterial tests and can therefore implement the correct antibiotic therapy to receive quick and efficient results. We keep a close check on our therapy success and document the development for you tooth by tooth.
New:
You need examination or treatment, but the thought alone makes you uncomfortable or even anxious? We have the latest technology to make your treatment the most relaxed of your life!