CMD functional diagnostics at our Munich dental practice – a healthy jaw joint is the secret to being relaxed and pain-free again all day long
The key things to know about CMD functional diagnostics
What do we mean by CMD functional diagnostics?
CMD functional diagnostics is a functional diagnostic examination for craniomandibular dysfunction (CMD) that is tailored to you. This dysfunction is a dysregulation of the muscle or joint function of the temporomandibular (jaw) joints, which can have various causes and effects. In collaboration with other specialist disciplines (physiotherapy, oral and maxillofacial surgery, osteopathy, etc.), you will receive comprehensive advice so we can use CMD functional diagnostics to help you quickly and in the best possible way.
What causes and effects can temporomandibular (jaw) joint disorders have that require CMDfunctional diagnostics?
An increasingly busy life, high stress levels and the associated mental and physical strain can all lead to temporomandibular joint disorders that can affect your whole body. Headaches, dizziness, grinding or clenching your teeth and even tinnitus are just some of the effects you may experience. Our dentists at Dr. Butz and Partners will help you return to a relaxed and pain-free life by carrying out a bespoke CMD functional diagnostics examination.
When can a dental splint be appropriate?
Mental and physical stress often lead to bruxism –the technical term for grinding or clenching your teeth, which is the body's way of releasing stress. When playing sport, a sports mouth guard protects your front teeth and can help to relax the lower jaw. A dental splint may also be recommended to treat snoring. It can reduce or even prevent the side effects of snoring, such as frequent exhaustion, tiredness and anxiety.
Source: Dr. Martina Lutzenberger, Dr. Butz & Partner, 01.06.2022, Munich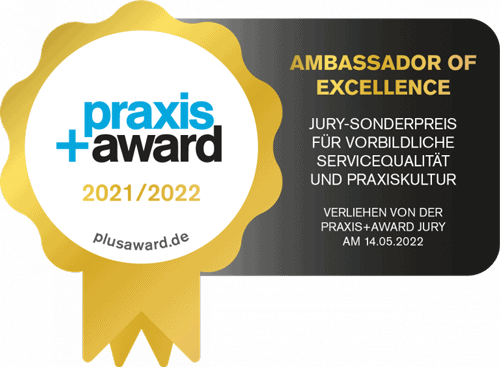 Our practice in Munich
Over the last few years, our dental practice in Munich has established itself as a professional and expert point of contact for all outpatient dental treatments. Thanks to many years of experience and teamwork, we can offer solutions and services for complex cases that were not previously possible in this form. We have received several awards in recognition of this. Our treatment methods are also the subject of numerous publications and lectures. We are one of the few practices in Germany that can offer you the option of participating in various renowned clinical studies. We have close links to research and can treat you using the latest materials and dentistry technologies.
TMJ Functional diagnostics Munich
TMJ Functional diagnostics Munich
Our occlusal splints or guards are manufactured according to the concept of Dr. Wolf-Dieter Seeher. With our everyday life becoming faster paced and stress levels increasing, we are more and more often confronted with temporomandibular joint dysfunctions. In our new practice in the "Fünf Höfe" in Munich, we will gladly inform you in detail about TMJ. TMJ syndromes can have an effect on the whole body and lead to disorders like headache, dizziness, back pain, tinnitus, neck tension and many more. If teeth become the outlet of mental and physical stress by grinding and clenching ("bruxism"), therapy with an occlusal splint or guard can help you relax, improve your sleep and protect your teeth from permanent damage.
Your partner for TMJ in Munich.
With individual TMJ (=temporomandibular joint dysfunction) functional diagnostics, the dentists and specialists at Dr. Butz and Partner can help you relax and relieve your pain. Our guards are produced digitally and shaped in one piece, which makes the design and fit better than with traditional methods. Thanks to this method of manufacturing, our guards have no residual monomer and therefore have a neutral taste. The guard can be cleaned more easily and is extremely solid despite its delicate layout. The dentists at Dr. Butz and Partner in Munich will be happy to advise you. We work with physical therapists and osteopaths to provide you with the best possible help as quickly as possible to deal with your temporomandibular joint dysfunction using TMJ functional diagnostics.
Snore solutions Munich
About half of all men and a quarter of women start snoring with increasing age. Reasons can be excess weight, a uvula which is too long, or an epiglottis which is too soft. We will gladly give you advice on this topic at the dental practice Dr. Butz and Partner.
These nighttime noises not only put stress on your relationship, but also on your health. Often snorers do not have restful sleep. Because of the so-called sleep apnea, sleep is briefly interrupted again and again, meaning that the affected person never reaches the deep sleep phase, which is important for regeneration. This results in fatigue, tension and tiredness. These symptoms can have long-term effects: apart from a greater risk of accidents due to fatigue ("momentary nodding off" while driving!), there is a greater risk of heart attacks, diabetes mellitus, high blood pressure etc.
Do not to hesitate to come to Dr. Butz and Partner in Munich if you have questions regarding a snore guard. We give you individual advice and consult specialists if necessary to help you solve this sensitive problem. After the diagnosis, we at Dr. Butz and Partner make an individual, digital snore guard that re-positions your lower jaw by slightly pulling it forward and therefore leaving more space, generating a better air circulation in your throat. This means a relaxing night´s sleep for you and your partner.
Sports mouthguards Munich
If you are physically active, we at Dr. Butz and Partner can make an individual sports mouthguard in our laboratory in Munich. Tooth injuries and injuries in the oral area are a frequent problem in many sports. Mouthguards mainly help by protecting the front teeth and keeping the lower jaw in a relaxed position. Mouthguards are used successfully in golf, football, basketball, endurance sports, ice hockey, boxing, and squash, amongst others. An individual fitting of a mouthguard is followed by comprehensive advice and diagnosis with the dentists at Dr. Butz and Partner in Munich.
The most modern dental techniques allow us to fit the mouthguard to your individual needs in our laboratory in Munich. The mouthguards are made of a special flexible synthetic material which offers ideal protection for your teeth in extreme situations– your teeth are protected from being knocked out or breaking. The sports mouthguards produced by Dr. Butz and Partner in Munich have a neutral taste, do not restrict breathing and allow normal communication with other athletes. We will gladly advise you at Dr. Butz and Partner in Munich on this topic. Prevent sports injuries in the sensitive oral area with an individually fitted mouthguard.
New:
You need examination or treatment, but the thought alone makes you uncomfortable or even anxious? We have the latest technology to make your treatment the most relaxed of your life!