Implants – dental solutions for your teeth by experienced specialists in oral surgery in Munich: All-on-4™ Munich
Interesting facts on the topic All-on-4™ Munich
What is All-on-4™?
Compared with other methods, such as removable dentures, dental implants achieve better results in terms of grip, chewing performance and safety – and they also look better aesthetically. Dental implants have therefore become established as the dental standard. When it comes to replacing an entire row of teeth, we use All-on-4™ technology. This involves creating a set of dentures that is fixed to the mouth via four implants and that can replace a whole row of teeth. Especially when a large number of teeth or even a whole row of teeth need to be replaced, All-on-4™ offers the perfect dental solution.
What are the benefits of All-on-4™?
When choosing All-on-4™ you receive a single permanent dental prosthesis that is anchored within the jaw. To look after your dentures, simply follow your usual care routine of brushing with a toothbrush and using dental floss. The benefit of this technology is that it gives you fixed teeth within just a few days, whereas the only other alternative is a removable denture. The technology also offers significantly greater comfort and visual appeal – plus it works better with your lifestyle. The dentures can easily be adjusted, cleaned and maintained after being fitted and, if necessary, added to, which is a strong argument for this type of treatment in the long term from a cost perspective.
What happens during the All-on-4™ treatment?
The first step is to conduct an examination of your jawbone and a consultation in which you are informed of the benefits and risks. The procedure will also be planned using 3D diagnostics to produce the dental drilling templates. The next step involves fitting four navigated implants into the edentulous jaw and registering them with a special intraoral scanner. You will then have a provisional attachment fitted that is anchored to the four implants. This all takes place on the same day. A few days later, the site of the implant will be thoroughly checked and the stitches removed. It takes around 3 months for the implants to grow together and fuse with the jawbone. The provisional attachment is then replaced with a high-quality set of dentures.
Source: Dr. Sebastian Grunert, Dr. Butz & Partner, 01.06.2022, Munich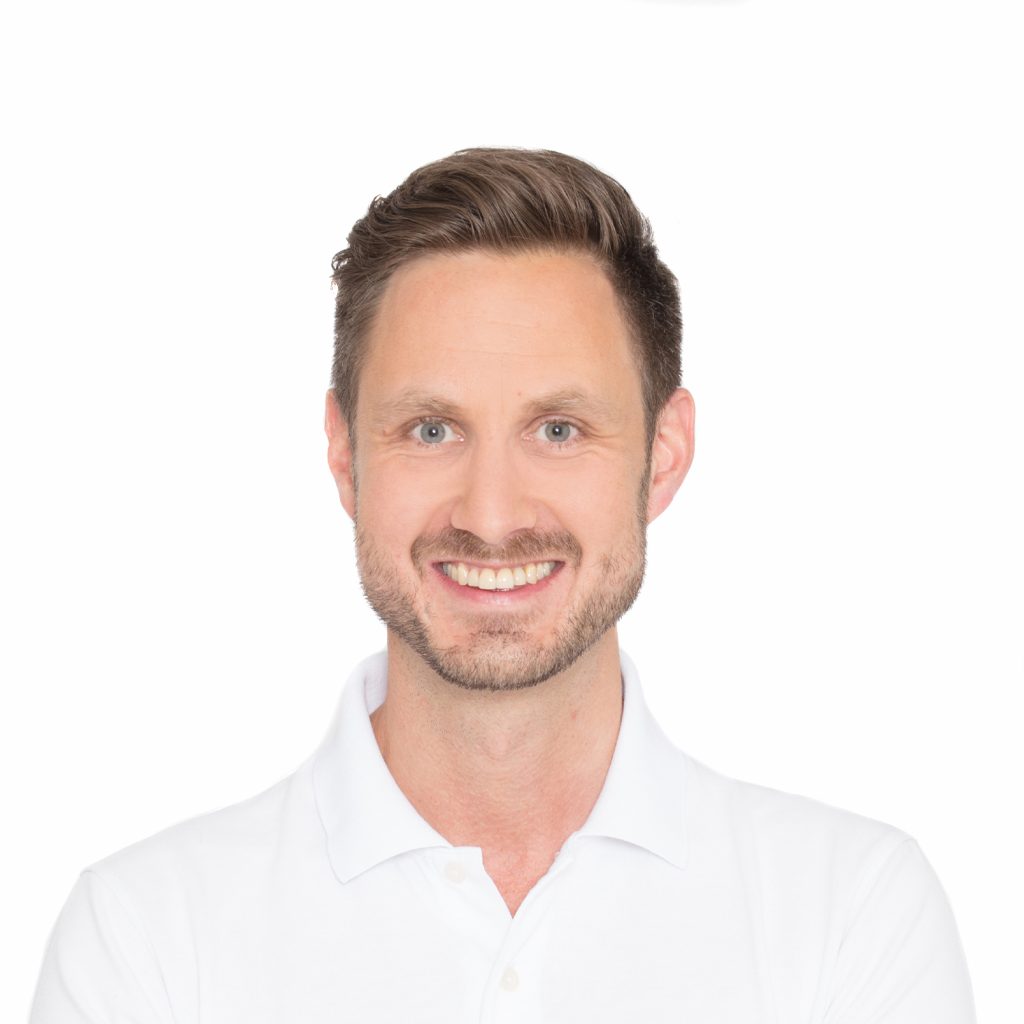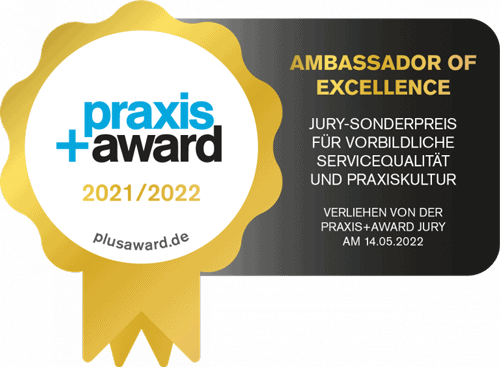 Our practice in Munich
Our dental practice in Munich offers all outpatient treatments for tooth, mouth and jaw diseases, and we specialise in a wide variety of dental disciplines. From prophylaxis to oral surgery and orthodontics, you will always find the right person to carry out your dental treatment at our practice in Munich. We believe in safe planning and dental treatment according to the applicable guidelines and specifications set out by professional associations, and we have close links to university research and development.
All-on-4™ Munich
Implants are becoming the standard in dental prosthestics due to their superior stability, performance, safety, and not least because of their aesthetics compared to other forms of dental prostheses such as removable dentures. Among the procedures available to replace an entire row of teeth, the most recent is All-on-4™: A prosthesis able to replace all teeth of a row is mounted on four implants.
Advantages of All-on-4™ Munich
If it is necessary to replace a large number of teeth or an entire row of teeth, the procedure of choice at our Munich oral surgery clinic is All-on-4™. With this, we can provide you with the best of what other forms of dental prostheses have to offer:
You receive one single prosthesis which replaces your entire upper or lower set of teeth. This means significantly reduced strain and effort compared to individual dental implants.
Unlike removable dentures, an All-on-4™ prosthesis functions like a set of natural teeth: It is permanently fixed and cleaned with toothbrush and floss.
Removable dentures exert unnatural pressure on the jawbone and thus lead to bone resorption. The consequence: Your dentures lose their firm hold and bone augmentation sooner or later becomes necessary. Thanks to All-on-4™, this problem can be avoided at Dr. Butz & Partner Munich: Since the prosthesis is anchored in the jawbone, it remains naturally loaded and permanently retains its shape.
The All-on-4™ procedure Munich
At Dr. Butz & Partner in Munich, you can have an entire row of teeth replaced in a single operation. After thorough examination and detailed consultation, we will take the following steps:
Four titanium implants are placed in the jawbone. This will either be performed under sedation or general anaesthesia according to your wishes.
We take an impression of your jaw and a temporary denture is fixed on the four implants on the same day.
After several days of rest, we inspect the wounds and remove your sutures.
After around six months, the implants are inseparably grown into your jawbone and the temporary can be replaced with a high-quality permanent denture.
In addition to usual daily dental care, we recommend you see us for prophylaxis every six months. This enables us to regularly check and professionally clean your implants and your prosthesis. In this way, we can ensure permanent stability and functionality of your denture.
Allow us to permanently restore your natural dental functionality in our oral surgery clinic in Munich. Your oral surgeon for All-on-4™ in Munich.
New:
You need examination or treatment, but the thought alone makes you uncomfortable or even anxious? We have the latest technology to make your treatment the most relaxed of your life!