Dental implants from the specialists in oral surgery in Munich – durable and reliable dentures
The key things to know about dental implants
What is a dental implant?
A dental implant is an artificial tooth root that is placed in the jawbone to replace a lost tooth. Dental implants are manufactured using various methods and materials, all of which have been very well researched in long-term studies and have been used successfully for many years. This is an established process that, more than ever, belongs in the hands of certified specialists. Our oral surgery department focuses on implantology and has accumulated many years of experience and expertise in this field through treating a wide range of cases.
What are the benefits of dental implants?
The only fixed denture alternative to implants is a bridge to fill a gap in the teeth. To do this, the adjacent teeth must first be ground down in order to accommodate the bridge. This weakens an already restricted area of the jaw. Two teeth then bear the load of the bridge and take over the chewing function of three teeth. The prognosis for the pillars of the bridge is therefore negatively impacted and there are additional limitations on maintaining it. Implants are therefore the number one choice nowadays for correcting gaps in the teeth. We would be happy to advise you on this important topic at our oral surgery department in Munich.
What does having an implant involve?
You will receive detailed advice and information about the options, alternatives, risks, duration of treatment and treatment costs from our specialists in oral surgery. We then create an individual treatment plan tailored to you and your needs. The actual procedure is performed on an outpatient basis under local anaesthesia (twilight anaesthesia, also known as conscious sedation, or a general anaesthetic are also possible) and takes between 30 and 120 minutes, depending on the number of implants to be inserted. The after-effects of the operation are usually minor and can be alleviated with ordinary painkillers. You will be given further information during your consultation.
Source: Dr. Sebastian Grunert, Dr. Butz & Partner, 01.06.2022, Munich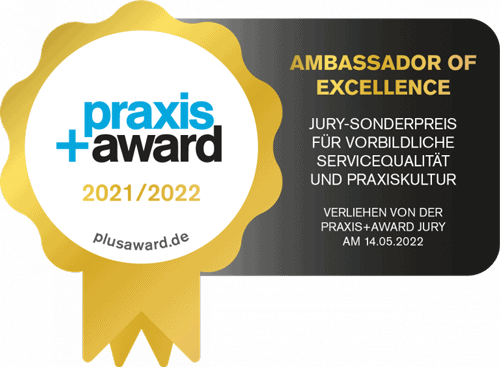 Our practice in Munich
Over the last few years, our dental practice in Munich has established itself as a professional and expert point of contact for all outpatient dental treatments. Thanks to many years of experience and teamwork, we can offer solutions and services for complex cases that were not previously possible in this form. We have received several awards in recognition of this. Our treatment methods are also the subject of numerous publications and lectures. We are one of the few practices in Germany that can offer you the option of participating in various renowned clinical studies. We have close links to research and can treat you using the latest materials and dentistry technologies.
Feedback by customers
Testimonials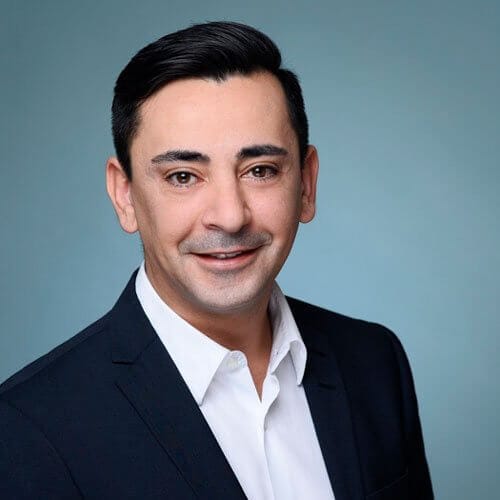 Kaan Pekcan
The first time I was at your practice was for an examination by Dr. Fazio. I am very impressed by your practice as well as by your team. The ambiance of your practice is simply great; you instantly feel comfortable the moment you set foot in it. I can absolutely recommend Dr. Butz & Partner!
Testimonials
Dental Implants Munich
A dental implant is a surgical screw made from titanium which is placed into the jaw to replace the root of a tooth. This "root" can then serve as a basis for a prosthetic crown. Unlike other kinds of tooth replacement, no adjacent teeth have to be affected when using this technology. In addition, the jawbone does not recede because the implant maintains the natural load of the tooth. Implantology can and should therefore be regarded as the future of tooth replacement in modern dentistry. For this reason, we at the oral surgery clinic Dr. Butz & Partner place great importance on offering our patients the largest possible variety of high-end technology for dental implants. Whether one tooth, several teeth or an entire row of teeth has to be replaced: In our oral surgery clinic in Munich, we guarantee that you will only encounter the latest materials, the most tried techniques and the most competent oral surgeons in your diagnosis and treatment. That is what we stand for.
Procedure of dental implants Munich
The operation itself usually takes place under local anaesthesia, and you will be able to leave our practice immediately afterwards. In special cases or according to your wishes, you also have the option to have the intervention performed under sedation or general anaesthesia. In every case, the procedure is painless. Its duration varies greatly according to the number of components to be implanted. Most surgical interventions in implantology range from 30 minutes to 2 hours.
The postoperative pain is usually slight and easy to alleviate using everyday pain medication. You will also be thoroughly informed about this by our specialists of implantology both before and after the treatment. Here you can find a comprehensive compilation of rules for post-operative behaviour.
Around one week after the operation, there will be a follow-up examination in our Munich oral surgery clinic and your sutures will be removed. In the following weeks or months, the implant will grow into your jawbone. During this transitional period, our patients receive a temporary crown to close the gap; when the implant is fully ingrown, the permanent prosthesis can be anchored on the implant. For this purpose, the implant has to be uncovered one last time, so that an impression can be obtained and a custom-made prosthesis can be produced. As soon as this prosthesis is fixed to the implant, you can again enjoy a complete row of teeth. Your oral surgeon for dental implants Munich.
Advantages of dental implants Munich
Other forms of tooth replacement only replace the part of the tooth visible from the outside (dental crown). However, more than half of the length of a tooth is situated beneath the gums inside the jaw (dental root). If this part is missing, this not only leads to inferior safety and chewing efficiency; in the long term, the jawbone recedes because it is no longer naturally loaded.
In addition, e.g. when crowning a tooth, its adjacent teeth have to be trimmed, which diminishes the long-term prognosis for those teeth. Since a dental implant replaces both the crown and the root and the prosthesis therefore simulates an independent tooth rooted in the tooth's socket, these problems do not occur. The titanium screw directly interfaces with the jawbone, which gives dental implants the additional advantage of a very long lifespan. Dental implants therefore offer optimal functionality and reliability.
Before any treatment, you will receive extensive consulting and be informed about your options, the risks involved with treating and not treating your problem, as well as duration and cost of treatment. Thereafter, our oral surgeons will devise an individualised treatment plan together with you, which will then be executed step by step.
New:
You need examination or treatment, but the thought alone makes you uncomfortable or even anxious? We have the latest technology to make your treatment the most relaxed of your life!